Syracuse House, 2007-2010: Exterior Renovation and Landscaping
I lived here during graduate school. It was a mid-century modern, designed by an architect who still lived in the neighborhood. The inside was a 1953 time capsule, which was fine by me, but a similar "preservation" method had not been kind to the exterior. Over two summers, I scraped and sanded, puttied and painted, and dug and planted. I think I met 90% of my neighbors while I was standing on a ladder with paint in my hair.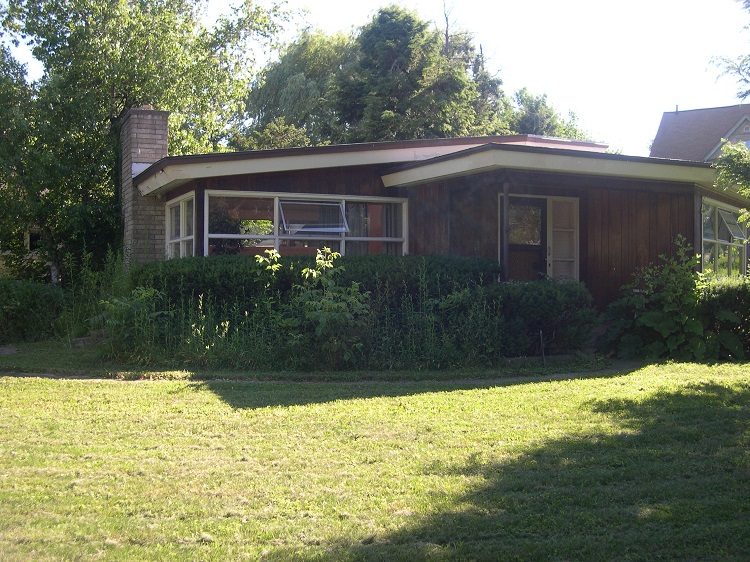 San Francisco House, 2012-2016: Interior Renovation
After living in San Jose for a year, I took the plunge into the real estate madness that is San Francisco, and bought the absolute smallest and cheapest house on the market. It was once actually the garage/carriage house for the building in front of it, but was subdivided into its own lot and made into a tiny house in the 1940's. The upstairs was divided into three (three!) little rooms, the stairwell was claustrophobic and dimly lit, and nothing was straight, not even the kitchen cabinets. I designed a new layout, and worked with an architect, contractor, and structural engineer for the big stuff that required city inspections, including seismic upgrades and the new kitchen. I did a good portion of the demolition, and handled the custom finish work, including the railings, the built-in desk, the trim work on the kitchen peninsula, and the shelving under the bay window.
There's always one more thing to do, but I'm calling it "done." Although there is one wall left that I'd kinda like to move...